You've been hibernating for the past three months and it's time to get out and into the wild.
While the city is full of green space to retreat to, there's nothing quite like having your own little garden sanctuary where you can grow plants and flex that green thumb you've been wanting to work on. However, until rooftop gardens become more popular in the city, there is a bit of a drought in community gardens where you can volunteer. do not do have a two-year waiting list.
That doesn't mean you should lose hope. There are plenty of opportunities to improve your gardening skills, do good for the community, and harvest freshly grown vegetables for free in the meantime.
The San Francisco Department of Recreation and Parks lists more than 30 community gardens around the city that you can run. The only requirements are that you must be a resident of San Francisco and pay the $20 to $30 monthly membership fee.
However, while many urban gardens have been redesigned to allow for a higher yield and give everyone a chance in the growing process, plot space can still be modest and spaces fill up quickly. Some have a waiting list of up to eight years.
Some gardens don't have individual plots and are communally run by volunteers, making it much easier to put in a day's work and see the literal fruits of your hard work.
Volunteers planting tomatoes at Alemany Farm
Alemany Farm
It's the only working farm in San Francisco with 3.5 acres of land to plant everything from strawberries and watermelon to squash and kale. All in a rather impressive setting in the south of San Francisco. The farm welcomes the public to its weekly environmental education classes and you can drop by and help with gardening and other special projects. Volunteers are encouraged to take an orientation tour and tour the pond. Keep an eye out for resident turtles!
700 Alemany Blvd., SF
The community grows
This organization oversees six gardens around San Francisco, with its headquarters at Koshland Park & ​​Garden in the Lower Haight. It has 54 plots, half of which are for K-5 students at John Muir Elementary School, and the other half is for the community at large. The garden and park were built in the 90s in response to crime, drugs and prostitution in the area at that time. The garden now hosts regular science classes for students and community workdays every two months to educate and empower young people to take control of their food system.
Multiple locations
Urban Forest Friends
Since 1981, this organization has planted more than 50,000 trees on city streets, totaling 47% of the streets' forest cover. Neighborhood groups can plant and maintain sidewalk trees and gardens to help beautify their community, clean the air, increase property values ​​and reduce polluted water runoff. There are several ways to volunteer with them, as well as finding information on how you can apply to set up a sidewalk garden in your own neighborhood by working with the Department of Public Works.
1007 General Kennedy Avenue #1, SF
NOMADgardens
Located in Mission Bay, this 4-acre open space is redefined by Parklab, an ideas incubator that has formed neighborhood alliances to get creative with what was once just vacant land. Here, residents can grow their own food and receive education on health and wellness, as well as urban agriculture. As with most gardens, a membership fee is included, which also provides access to a seed library, discounts at local businesses, and private event rentals. Since the gardens are mobile, plots can be picked up at any time with a forklift, placed on a truck, and moved to another plot inside Mission Bay.
1401 4th Street, SF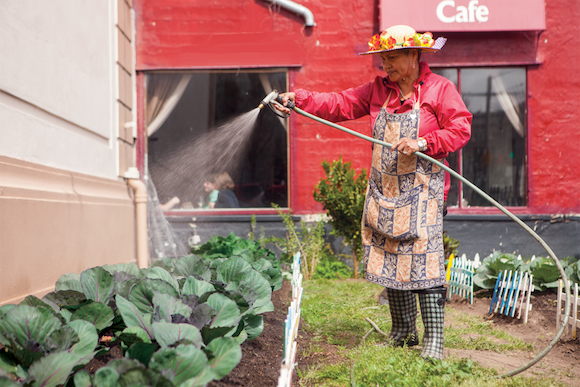 Volunteer gardening at the Tenderloin People's Garden
Net People's Garden
Looking to garden and also give back to the community? This space is managed by the Tenderloin Neighborhood Development Corporation, which provides affordable housing and services to more than 4,000 low-income residents in six different neighborhoods. It also runs a gardening and food justice program in which volunteers can help harvest and circulate food. Since 2010, he has created four additional rooftop gardens on TNDC buildings which produce approximately 2,500 pounds of free food for the community each year.
201 Eddy Street, SF
Community garden all in common
Another rare organic community garden in the Mission that has been in operation for 35 years and has no waiting list. There are no separate plots and all volunteers rotate crops seasonally and share what each grows. Many gardeners are connected to the Free Farmstand, which hosts a space where the abundance of surplus food from neighborhood gardens, farmers' markets, community gardens, and public and private fruit trees can be shared with the community at no cost.
23rd Street between Folsom and Shotwell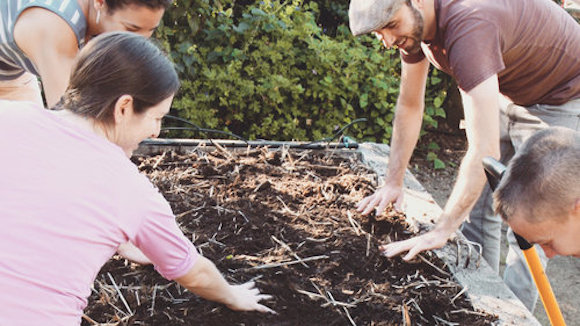 Urban composting classes taught at Garden for the Environment
Garden for the environment
Launched in 1990 from a desolate wasteland, the space encourages residents to lead healthy, sustainable lives by sharing harvests and participating in workshops on topics such as urban composting and gray water use. Over the course of a year, its instructors will teach over 600 classes, bring over 900 young people to the site for field trips, and train over 20 adults to become leaders in the local sustainable agriculture movement. . Internships are also available to teach small group management, sustainable garden care, composting and water conservation. Volunteers can come on Wednesday from 10 a.m. to 2 p.m. and on Saturday from 10 a.m. to 3 p.m.
7th Avenue and Lawton Street
Garden far from the west
A small garden aptly named for its location in Sunset just off Ocean Beach, this space hosts garden excursions and workshops for students of all ages and has benefited from courses in bike repair, composting, pottery and the ukulele. The purpose of the garden is to bring people together to share land outside the grounds of St. Paul's Church. Labor parties are organized in the garden on the first Saturday and third Sunday of each month open to the public.
1399 43rd Ave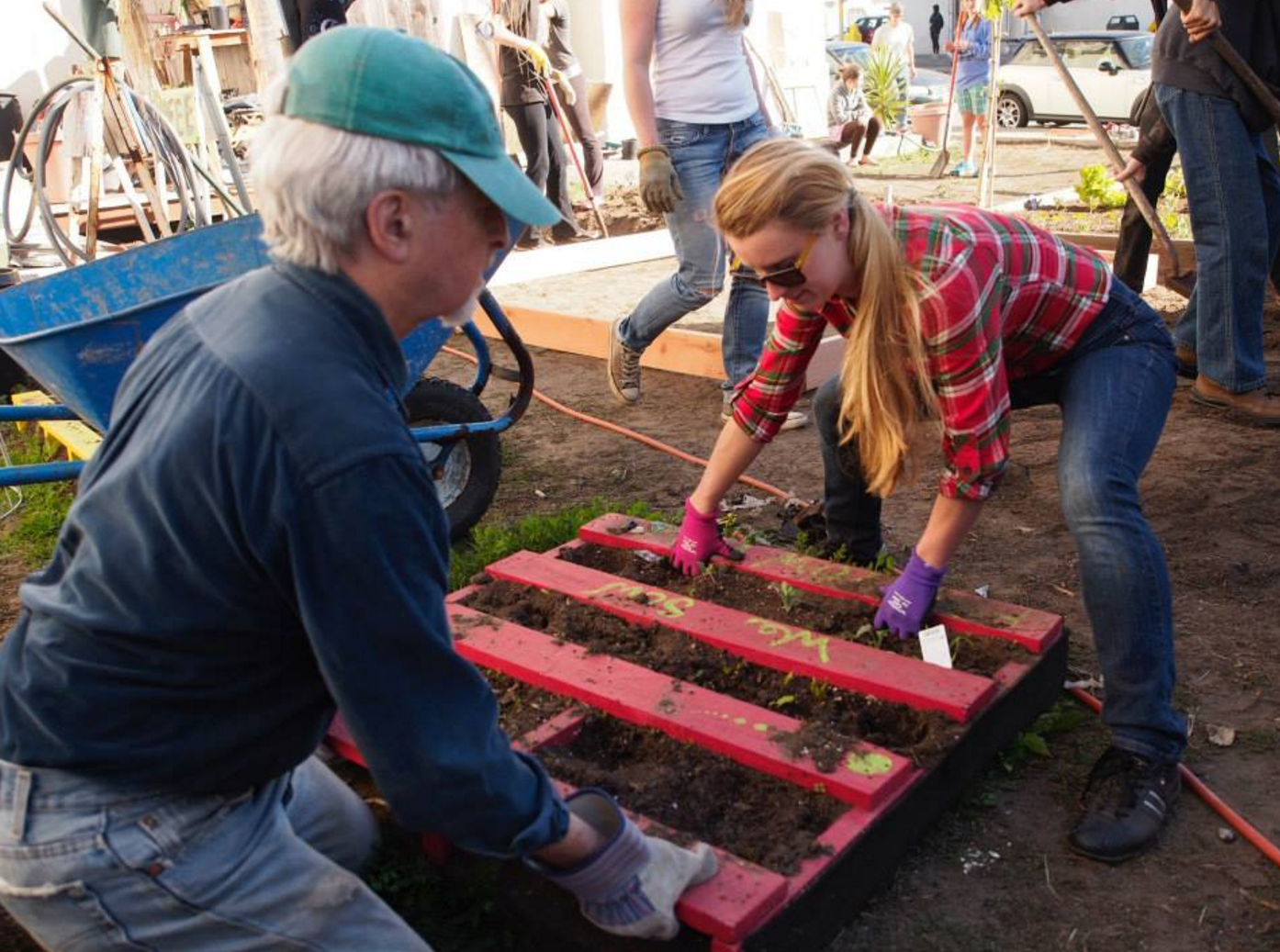 If you can't find space to join a community garden but are willing to dive in and get your hands dirty, you can also contact the San Francisco Parks Alliance to start a new community garden in the city through their Street Parks program. Their goal is to help residents who might be looking to find public land for community-managed green spaces.
San Francisco also has laws in place that encourage the city to create more green space, which means you may only have bargaining power with your landlord. Landowners who turn uninhabited land into farms and gardens can have that area assessed at the prevailing tax rate at which state irrigated farmland is measured. It's a win-win for you and your rental company.